Can I purchase a single article?
No, it is not possible to purchase only a single article. However, if you are not yet a subscriber and need instant access to the PEP Archive, PEP offers a low cost
24-hour journal pass.
Very important:
Note – the 24-hour pass does not include access to Current Content.
Note – the 24-hour pass does not include access to any of the books on PEP-Web.
Please ensure that the complete journal article you require is included and is not just referenced or reviewed.
Please read the terms and conditions carefully.
Can PEP-Web index an article from another website?
PEP-Web now has the feature to index an article from another website.  The article will be fully searchable (by the complete text), but only the article information will be shown in search results, along with a link to the external website.  You will still need to read the article on the external website…which also means you will need an account to access to the article on the other site, if it's not freely available.
Despite not being able to read the article on PEP-Web, this can be useful for researchers, because the article's bibliographic reference will be included along with other search results when the specified criteria match.
To suggest an article, you can enter the information here.  The article will be reviewed by PEP to decide whether to include it in as an external article of interest on PEP-Web.
How can I search the support website?
There's a magnifying glass at the bottom of the menu options on the left of the window.  Click it to enter your search criteria.
How can I sign up to receive new PEP content alerts?
To receive updates about new PEP content directly to your email address:https://pep-web.org/ scroll down the left-hand side panel, to locate the Related Info card entitled "What's new?"
From the homepage

Click on the Info card title to open it. You will see a list of recently added article titles and at the bottom a link entitled: "Update notifications".
Click this link and a pop-up box will appear. Here you can select to receive updates about PEP-Web journals and videos by clicking the relevant check boxes. To confirm your selection, click "Update notifications".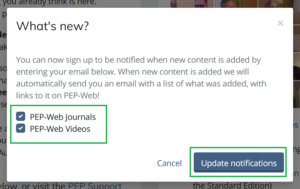 Updates about new content will now be sent to the email address that you use for your PEP-Web account. To check which email address this is, from the homepage, click on the "Person" icon on the main top toolbar (to the right) and a dropdown menu will appear entitled "Preferences". Displayed in this menu is the email address that notifications will be sent to.
How can I update my contact details or change my username and password?
log in www.psychoanalystdatabase.com using your PEP-Web username and password
Click  'Update'
Make any necessary adjustments.
Click 'Save' and 'Log out'
If you change your username and/or password, you must allow 24 – 48 hours to pass, before trying to access PEP-Web.
How do I clear my browser cache?
Clear Your Browser Cache
Sometimes when changes are made to a web page, the change does not immediately appear in your browser window. This is because a previous version of the web page was cached. Clearing your cache is needed to prevent your browser from referring to the last cached page. You may be asked to do this when getting help from tech support.
Chrome
Open Google Chrome.
Open the Clear browsing data window.
a) On Mac: Use the keyboard shortcut Command+Shift+Delete
b) On Windows: Use the keyboard shortcut Ctrl+Shift+Delete
c) Or type this into the URL address bar:chrome://settings/clearBrowserData (case sensitive)
Click on the Advanced tab
Set the Time range setting to All time
Make sure to check off the following:
a) Browsing history
b) Cookies and other site data (this will require you to sign into sites again)
c) Cached images and files
d) Autofill form data
e) Site settings
f) Hosted app data
Make sure to uncheck the following:
a) Passwords and other sign-in data
Click on Clear data
Once complete, restart your browser.
Reference documentation: https://support.google.com/accounts/answer/32050
Safari
Open Safari
Open Safari Preferences
a) On the left side of the menu bar, click on Safari (near the Apple logo), and click on Preferences…
b) Keyboard shortcut: Command+,
Click on the Privacy tab.
Click on Manage Website Data…
Wait a moment for Safari to populate data in this new window and then click on Remove All and then Remove Now
Click Done and close out the Preferences window and restart Safari.
Reference documentation: https://support.apple.com/guide/safari/clear-your-browsing-history-sfri47acf5d6/15.1/mac/12.0
Firefox
Open Firefox
Click on the "hamburger" ! icon on the top right-hand corner
Click on Library
Click on History
Click on Clear Recent History…
Set Time range to clear to Everything
Make sure All items are checked off
a) Browsing & Download History
b) Cookies
c) Active Logins
d) Cache
e) Form & Search History
f) Site Preferences
g) Offline Website Data
Click on Clear Now
Restart Firefox
Reference documentation: https://support.mozilla.org/en-US/kb/how-clear-firefox-cache
Edge
Open Edge
Open the Clear browsing data pane
a) Click on the ellipses … icon at the top right-hand corner and click History and then Clear history
b) Keyboard shortcut: Ctrl+Shift+Delete
Make sure to check off the following:
a) Browsing history
b) Cookies and saved website data
c) Cached data and files
d) Tabs I've set aside or recently closed
e) Download history
f) Autofill data
g) Media licenses
h) Website permissions
Make sure to uncheck Passwords
Click on Clear
Once completed, restart Edge
Reference documentation: https://support.microsoft.com/en-us/help/10607/microsoft-edge-view-deletebrowser-history
Internet Explorer
Open Internet Explorer
Open the Delete Browsing History window
a) Click on the Cog/Gear at the top right-hand corner, hover over Safety, and click on Delete browsing history…
b) Keyboard shortcut: Ctrl+Shift+Delete
Make sure to check off the following:
a) Temporary Internet files and website files
b) Cookies and website data
c) History
d) Download History
e) Form data
f) Tracking Protection, ActiveX Filtering, and Do Not Track
Make sure to uncheck the following:
a) Preserve Favorites website data
b) Passwords
Click Delete
Once the window closes, restart Internet Explorer
Reference documentation: https://support.microsoft.com/en-us/help/17438/windows-internet-explorer-viewdelete-browsing-history
How do I download the PEP Bibliography?
There are currently several options available for downloading PEP-Web search results to be imported into bibliography managers such as Endnote.
To download PEP-Web search results into a spreadsheet in CSV format.
First, run your search so that the article results are showing in the central reading panel:
1. For an individual article or small selection of articles in the search list, select the required articles using the check box next to the article, then click the Download icon (top right corner of the central reading panel) and select "Comma Separated Values (CSV)". This will prompt you to open or save the selected files within an Excel spreadsheet.
2. To download the entire list of search results presented, scroll down to the very bottom of the list, then click the Download icon (top right corner of the central reading panel) and select "Comma Separated Values (CSV)". This will prompt you to open or save the selected files within an Excel spreadsheet.
To prepare these tab-delimited results in Excel and import them to Endnote, follow this tutorial: https://www.youtube.com/watch?v=FFmN2xQ-Bqo
PEP-Web Bibliography
A 20MB file of bibliographic data for the articles that appear in PEP-Web is available to subscribers in REFER format, which can be imported into EndNote and other bibliography managers. The list is refreshed within 30 days after each major release of PEP (e.g., A1v9, A1v10, etc.)  To request access to the .refer file containing the full bibliography, please use the "Provide Feedback" form, accessed by clicking on the Help icon "?" on the main PEP-Web toolbar and selecting "Provide Feedback". You must have a PEP-Web subscription to request the full bibliography.
How do I retrieve my username and reset my password on PaDS?
Go to PaDS
Click on the highlighted link Forgot Username/Password?:
Enter your Email Address in the search box and click the Send button:
You will receive an email from sales@psychoanalyistsdatabase.com containing a highlighted link entitled PaDS Password Reset/Activation. Click on this link, as shown below:
Your Email Address and Username will be displayed on the next page, as shown below. Under these details, in the New Password box enter your updated Password. Enter it again in the Confirm Password box. Please make a record of your Username and New Password. Next, click the Activate/Reset button:
A new page will open that confirms you have updated your Password. PEP-Web Subscribers will see the page in Image 1; non PEP-Web subscribers will see the page in Image 2 (see below). To continue, click on one of the highlighted links to either access PaDS (to place an order or amend your personal details) or PEP-Web (to log in and access content):
How do I suggest new content to PEP?
We have a form where you can suggest new content for PEP-Web.
To access the form, Click Here.
Is there a way to search for a word and synonyms?
To further enhance search recall, PEP has incorporated an industry specific thesaurus into the site. Select the "Match Synonyms" checkbox in the search form to expand the effect of the search term to include conceptual synonyms.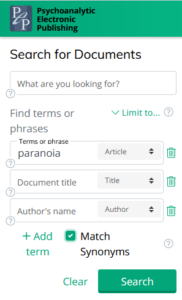 As the underlying search engine has changed with the 2021 release, the equivalent search syntax for word searches and some explanatory notes can be found here.
What (and where) is the Consolidated Glossary?
The PEP Consolidated Psychoanalytic Glossary is a compilation of terms, definitions, and discussion from major published psychoanalytic glossaries. With the glossary, PEP has integrated several of the key Psychoanalytic glossaries into a new document.
In this initial implementation, the glossaries included are as follows:

The Language of Psychoanalysis (Laplanche and Pontalis)
Edinburgh International Encyclopaedia of Psychoanalysis (Skelton)
Glossary of Psychoanalytic Terms and Concepts (Moore and Fine)
Dictionary of Kleinian Thought (Hinshelwood)
Psychoanalytic Terms and Concepts (Auchincloss and Samberg)
EPF Glossary of Psychoanalysis in Europe (Junkers)
See the PEP Consolidated Glossary for more information.
Terms from the glossary are hyperlinked from within articles in PEP-Web. When you move the mouse over a word with a glossary link, the cursor changes and the link material is underlined. If you would like the glossary terms in the article to be highlighted in a different color, select the "Person" icon on the main toolbar (right-hand side) and click "Preferences" from the dropdown list. Then select "Glossary Formatting". The color depends on the theme you have selected. A simple click on the term brings up a pop-up window with the definitions and discussion from each of the glossaries together. You can then close this box to return to the article.
The Glossary can also be browsed directly by typing its ID code: ZBK.069.0000A into the main Smartsearch field (labeled "What are you looking for?") at the top of the left-hand side panel under the heading "Search for Documents". Users may wish to save the Consolidated Glossary to their "Favourites" or "Read later" folders, by selecting the Heart or Bookmark icons, for quick access to the complete content.

What about the tablets and mobile devices?
PEP-Web now works very well with popular tablets such as the iPad and the Kindle fire, and with the mobile devices we've tested. But we can't test them all…please let us know if you run into problems.
What can I access?
Everyone can search and browse. Everyone has access to the tables of contents, the abstracts (or first few paragraphs if there isn't an abstract). In other words, if you don't have a subscription, you can browse and perform full text search of the entire Archive, but only the abstracts or first 1000 characters or so of the article will be accessible.
PEP Archive subscribers can view the complete text of journal volumes up through the current three to five years (PEP Current Content) and all books. To view the complete text of the articles, you must be logged in. If you see "Logout" to the left of the Home Tab then the system has recognized and authenticated your rights. If you see the text "Login", click it to authenticate or for further information as to how to sign in.
All PEP Content is searchable, but access is limited per above. Click here  for more information on PEP Current Content.
What if I can't see the whole article?
Check whether you are logged in.
It may just be that you are looking at an current (embargoed) article…is the article less than 5 years old?

Yes?  If the article is recently published, due to contracts with the publishers, there's an embargo period where full text is not available (generally the most recent three years; five years for AIM, Jarbuch, and Psyche).  Division Review and The Italian Annual of Psychoanalysis do not have embargos.
What is PEP Current Content?
To understand what is "Current Content",  you need to know that the PEP Archive has an Embargo Period–a number of current years where data cannot be shown. This embargo is set by contract with the journals and publishers. PEP refers to any article within this Embargo Period as "Current Content".
For all Current Content the complete article text can be searched, and the resulting bibliographic list, and the article's front matter and abstract can be shown. If an article doesn't have an abstract, the first page, up to a limited number of characters, is shown.
Who do I contact for Help?
Why isn't my password being accepted?
Please note that passwords are case sensitive, enter it with upper and lowercase letters and numbers exactly as it was first created.
Will PEP-Web work with my ePub Reader?
Unfortunately, we can't test and provide support for third party reader software for PDF or ePub formats.
There is one issue we know of currently with PEP-Web's ePub output and some readers: some ePub reader software will not reformat/resize text downloaded from PEP-Web.
We have compiled a short list of ePub readers we have tested below, and and their compatibility with the current PEP-Web ePub format: