This page walks you through the steps for accessing PEP-Web through the webpages of your university's library. The screenshots below are intended to provide a general example of how to locate a database archive such as PEP. Each university website will have a slightly different layout, but they commonly follow a similar structure. If you are having difficulties accessing PEP-Web via your university or institution's library webpages, which cannot be resolved by taking the steps below, please contact your librarian in the first instance.

1. Go directly to the homepage of your university and either click on or search for the library pages. Alternatively you can google the name of your university + library.
2. Once you are on the dedicated library pages, look for the section called "Databases". It is often found under "Electronic Resources" or similar. Once opened, the "Databases" page will look similar to the screen below:

3. Use the search fields or simply click on the letter 'P' to find "Psychoanalytic Electronic Publishing", "PEP", "PEP-Web" (nb. the name may be written in different ways). Clicking on the letter 'P' opens the relevant alphabetical list (it will either display below or on a new page). Scroll to find PEP-Web in the list and click on the title to open the website:

4. Next, in order to access PEP-Web via your university library's IP address you will be requested to confirm your university or institutional credentials. A page will open similar to the screen below. Enter your university username and password in the fields provided and click the Login button. In some instances your university may require that you authenticate your university login via multi-factor authentication. If you have forgotten or need to renew your university credentials, please contact your university in the first instance: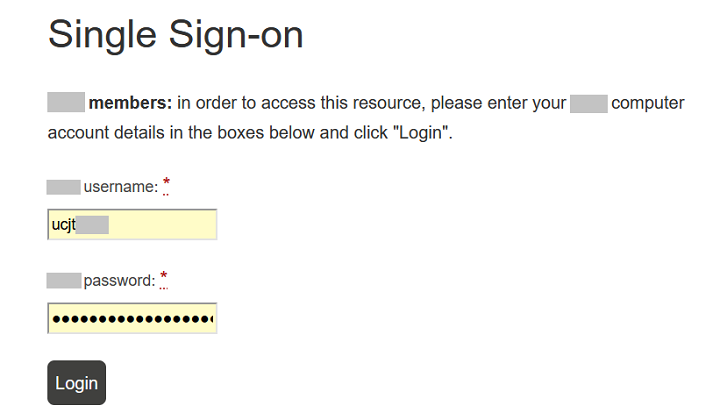 5. Next, the PEP-Web homepage linked to your university's subscription will open. You will notice that the URL for the website now shows that you are on your university's proxy address. At this stage, you now have complete access to the PEP catalogue via your university and can explore the archive.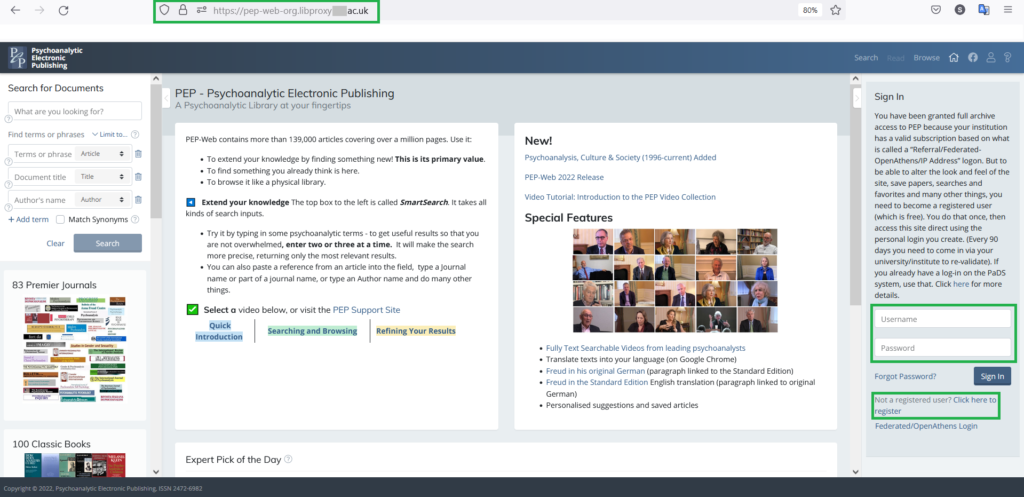 6. If you should then wish to have access to further PEP functions, such as personalisation or saving your favourite articles, we recommend that you Sign In to PEP in the right-hand side panel using your own PEP account credentials. You may already have a registered PEP account with a username and password which you can use to Sign In. If you do not already have a personal PEP account, use the "Click here to register" link below the Sign In fields to complete this process: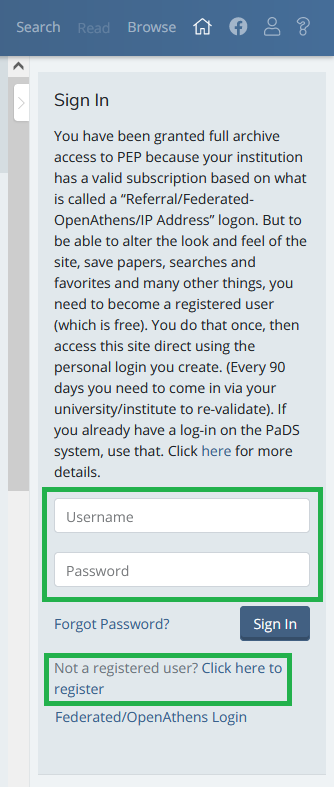 7. To learn more about how to register for a new PEP account, please return to the main PEP-Web Welcome page and follow the instructions for Registering As a New User: Creating a Personal Account listed under the heading Institutional Library Website.